Steamer's Basin Trading Co.
Business of the Month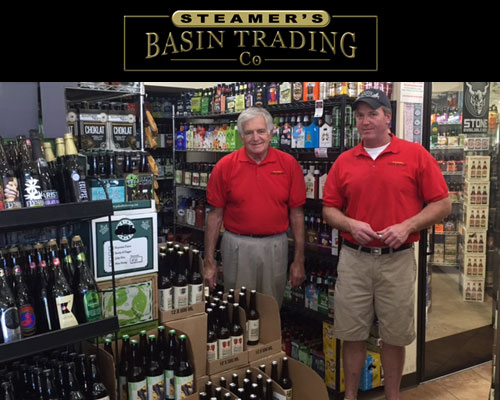 Steamer's Hess, also known as Steamer's Basin Trading Company, is being recognized by the Fairport-Perinton Chamber of Commerce as the May Business of the Month.  
Steamer's has been in business since 2005 and has owned the visible corner in the Basin since the 1980s.  First, they started offering a vehicle repair service.  With the addition of the convenience store, they found it to be fun, interacting with returning customers.  
Networking at Family First Credit Union
on June 9  5:00 pm
Stop by the new branch of Family First Credit Union on Fairport Rd. for networking with Chamber Members and guests.   
This is a free event for members.  We request that attendees register so we can give an approximate count for Family First.   
Promote Your Business in the July 4th Parade
Chamber Members are invited to march in the July 4th Parade.   Build a float, ride in an antique car, or just march with your employees.  If your business would like to participate, please complete the application and contact Jim Bilotta
Relay for Life of Fairport 6/11/16  12:00 pm
The American Cancer Society Relay For Life movement is the world's largest and most impactful fundraising event to end cancer. It unites communities across the globe to celebrate people who have battled cancer, remember loved ones lost, and take action to finish the fight once and for all.   Race begins at Perinton Recreation Center.  1100 Ayrault Rd.   Register here...
Maplewood Estates Garage Sale 6/24/16  9:00 am
Garage sale seekers won't have to look any further because Maplewood Estates will be having a community sale on Friday June 24th. This sale will be open to the public from 9am-2:30pm. Treasures of all kinds can be found, so tell your friends to stop by. All residents and outside family members/ friends are welcome to donate items for the sale. Donations will be accepted throughout the whole month, in the activity room.
RPCN Hosts Business Matching Event
R
PCN, in conjunction with IEC, Eastman Business Park and Roc POWER Group, are hosting a Business Matchmaking event on Wednesday, June 22, 2016 at Brook Lea Country Club, 891 Pixley Road.  
The event begins at 6:30 p.m. with registration and networking.  The matchmaking meetings will run from 7-9 p.m.  
Join us for a fun evening to meet other entrepreneurs. This unique speed-networking event is sure to increase your contacts, grow your visibility and grow your business.  
This event is open to small business owners, consultants, and those who use or need a consultant. The cost to attend is $15 in advance or $20 at the door.  Register here....
Comedy Night at the Brookdale Fairport
Moody McCarthy is a stand-up comedian who lives in New York with his wife, daughter and step-dog.  Moody has made numerous TV appearances, highlighted by scintillating sets on The Late Show with David Letterman, Conan O'Brien and Jimmy Kimmel Live.   Saturday, June 11th from 4 to 6 pm.  Seating is limited.  Please RSVP by 6/3/16 at 585-425-0210.
Celebrate

Father's Day

at the Brookdale Fairport with the Finger Lakes Car Club and their classic cars on Saturday,  June 18th

 from 

1:30 until 4 PM

.  There will be antique/classic cars, food, drink and live music to enjoy.
Genesee Valley Penny Saver Wins AFCP Award
Genesee Valley Penny Saver, with distribution throughout the Greater Rochester area, was recently recognized by the Association of Free Community Papers (AFCP) for overall excellence in publishing. The competition included community papers throughout the country. The Genesee Valley Penny Saver is in their 68th year of publishing their popular magazine. The 'excellence' category was judged on overall design, ease of use, readability and print quality.   
Stahl Family Given Vick Philanthropy Award
Fairport Baptist Homes and Paul A. Vick are pleased to announce the Stahl family was honored with the organization's most prestigious philanthropy award at the Annual Corporation Meeting at Fairport Baptist Homes on May 11, 2016.  The award was created to honor individuals, families or corporations whose long-term philanthropic support to Fairport Baptist Homes exemplifies their commitment and dedication toward furthering its mission and goals.   Read more...
Dr. Heinle Awarded Fellowship in Dental Assoc.
In special recognition of his skill and continued efforts,  Dr. Heinle has been awarded a Fellowship in the International Dental Implant Association - a very prestigious honor.   
Dr. Ron Heinle has recently completed a rigorous Dental Implant course in Boston MA spanning over 4 months with the prestigious training center "Implant Seminars" based in Miami, Florida headed by renowned dentist Arun Garg, D.M.D.  
Although specific certification and higher level education is not required in order to place dental implants, Dr. Heinle believes in gathering the most information, knowledge and skill and doing the best possible work for his patients.     
Sharp Notions Expands
Sharp Notions, a website development and marketing design company, recently expanded their offices at the Box Factory in the village of Fairport, NY.  In the last year they have hired 12 full time employees which prompted the acquisition of the suite next door. They continue to stress their motto of large-scale solutions with a small team feel. Let Sharp Notion's blend of talent, fun and creativity make your vision come alive!
CUSTOM 100 Celebrates 8 Year Anniversary
Darren Miller, webmaster for the Chamber and owner of 
CUSTOM 100, is proud to celebrate 8 years in business! 
Darren has adopted a "co-working" model when designing with clients and developers.  This allows him to work with people rather than for them.  It also helps to produce unique designs that reflect the inner vision of each person.  Congratulations Darren! 
Casa Larga Vineyards Events
Casa Larga's Patio Parties.  
Party on the Patio with live music, local food trucks, wine, craft beer and sangria. Tuesday & Thursday nights from 5:30-8:30 pm
Girl Friends Night Out

.  Painting party with hosts Vino & Vernici.    
Our farm to table marketplace features local produce, cheeses, meats and other products all under the tent at Casa Larga Vineyards.
Sundays beginning June 19, 
Fairport Baptist Home Events
Chapel Concert Series, These concerts are free to the public, every third Monday.  The next concert is June 20th, 7:00 pm.   Tom Torrisi, classical guitarist,  will perform.  
Fairport Baptist Home is located 4646 Nine Mile Point Rd. Fairport.
Swing for Seniors Golf Tournament,  On July 20, 2016, Fairport Baptist Home will host their 6th Annual "Swing for Seniors" Classic golf tournament at Ravenwood Golf Club in Victor and Bristol Harbour Golf Club in Canandaigua.  This tournament sells out each year.  If you would like to sponsor a team, golf, place an ad or donate a raffle prize, call Jessica at (585)388.2324
Hire a Summer Intern to Help Your Business
Do you have a project you have just not been able to get to?  Do you need to improve your social media to appeal to Generation Z?  The Work Based Learning program at Fairport High School includes students earning high school credit for completing an internship. Not sure how your business can use a student intern?  Go here for ideas.  If you would like to discuss this opportunity please contact Sandy Hoodak, Work Based Learning Coordinator at  shoodak@fairport.org.
Future Chamber Programs.  
Save the Date!
 8/18/16 5:00 pm to 7:00 pm,  Family First Credit Union