Sounds for Life
Business of the Month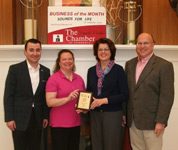 The Fairport-Perinton Chamber of Commerce has named Sounds for Life as their April Business of the Month.   Sounds for Life
 is located at 135 Sully's Trail Suite 10 Pittsford, NY and provides h

olistic hearing health care, focusing on education, prevention and relationships between health conditions and hearing loss.  Dr. 
Ramona Stein has

 more than 20 years of experience working in hearing healthcare. She is certified by the American Speech-Language-Hearing Association, and she is a New York State licensed audiologist and hearing aid dispenser.  

Read more...
Patio Party at Casa Larga on May 26  5:30 pm
Casa Larga Vineyards will be hosting the popular ROC Patio nights.  There will be food trucks, wine, beer and the band Soul Express.  
Admission price is $10.  Pay at the door.
Chamber members, who register by 5/24/16, will receive a free bottle of wine, courtesy of the Fairport Perinton Chamber.  Register here.
Chamber Coffee Hour 5/17/16  8:00 am
You are invited to a coffee hour at the
Towpath Cafe.  Drop in to discuss what is going on at your business... and what the Chamber can do for you!  The coffee is ready!  We need your input! 
Free, no registration required. 
Promote Your Business in the July 4th Parade
Chamber Members are invited to march in the July 4th Parade.   Build a float, ride in an antique car, or just march with your employees.  If your business would like to participate, please contact Jim Bilotta
Just Solutions Conducts Cyber Security Seminar 5/4/16
Just Solutions will host a free seminar on CYBER SECURITY and IDENTITY THEFT at Casa Larga on 5/4/16 from 7:30 am to 9:30 am
Document Shredding Event 5/7/16  9:00 am to Noon
Chamber President Paul West invites you to a complimentary document shredding event hosted by Nothnagle Realtors.  Just stop by and watch all of your unwantend documents get shredded.  It's a fun way to recycle and save time!  Last year we had over 95 cars, averaging 50 pounds per car.  That equals 2.5 tons of recycled paper!
No appointment necessary.  Just stop by for some fun!
Patrick Luke Elected President PPSNYS
On April 4th, 2016, Patrick Luke of Luke Photography was sworn in as President of the Professional Photographers Society of NY State (PPSNYS) at the FocusNY conference at the Villa Roma Conference Center in Callicoon, NY.  PPSNYS is a 111-yr. old professional organization dedicated to the education of professional photographers and to promote and exchange knowledge among professional photographers and the public.
Adobe Releases Emergency Update!
Mark Figura of Infogistics would like to alert other chamber members about a security risk.  Adobe (ADBE) has released an emergency update to its Flash Player after security researchers discovered a bug that allows attackers to take over and then crash users' machines.  

In a statement, Adobe called the flaw a "critical vulnerability" and urged users to update as soon as possible.    
Read more....
Fairport Baptist Home Hosts Golf Tournament
On 

July 20, 2016

, Fairport Baptist Home will host their 6th Annual "Swing for Seniors" Classic golf tournament at Ravenwood Golf Club in Victor and Bristol Harbour Golf Club in Canandaigua.  This tournament sells out each year.  If you would like to sponsor a team, golf, place an ad or donate a raffle prize, call Jessica at (585)388.2324.   Sponsorship opportunities are available.
New Product Charges up to 16 USB Devices
Saelig Company now carries the 
Cambrionix U16S Universal USB Charging Board which allows users to simultaneously charge and/or synchronize up to 16 USB 2.0 devices

.  Saelig Company, located at 71 Perinton Parkway in Fairport, provides electronic test and measurement instruments such as oscilloscopes to customers ranging from commercial and Federal aerospace engineers to electronic product developers, educators, inventors, HAM radio operators and other electronics enthusiasts. 
Read more...
Advent House Celebrates 25 Year Anniversary
The Advent House celebrated their 25th anniversary at the 2016 annual Dinner Dance & Auction at Monroe Golf Club on Saturday, April 9, 2016.  

The emcee for the evening was Channel 13's Mr. Don Alhart.  

Glenda Hastings, Advent House Director and Vicki Deady, Advent House Development Coordinator, honored volunteers who have served at Advent House since 1991.  Funds raised at the Gala go directly to the hands-on care of the terminally ill. 
Sandbox Announces Summer Registration
The Sandbox begins its Summer Drop Off Program Registration.  $25 non-refundable registration fee.  Offering Full and half Day Programs with Before and After Care options.  Program is 9 am - 3 pm Monday-Friday. Extended Care is 7:30 am and 4:30 pm.  $195 Full Days/$175 Half Days. May register online, by phone or in-person.   Also, check out our summer birthday party specials and our BOGO sale (buy 2 passes and get 2 free).  
Annual Shred-It and Food Drive
Please Join Us For Our Annual Shred-it and Food Drive Event. Saturday, May 21, 2016 * 9:00 am - 12:00 pm * 165 E Union St, Newark.  
Complimentary shredding. We welcome non-perishable food donations to benefit the Newark Food Closet. Sponsored by Silver Leaf Family Financial Group, KATHRYN R. CASTRO, CFP®, CDFA™    
Sandra Swanson Relocates to Allens Creek Office
As of April 1, 2016, Sandra Swanson, Licenses Massage Therapist,  has moved to 30 Allens Creek Road, Rochester,  NY 14618.  She is co-located with Greater Rochester Chiropractic.  They provide chiropractic services such as decompression, A.R.T., cold-laser therapy, yoga, personal training, weight-loss instruction, and acupuncture.   In addition to traditional massage, Sandra's new services include kinesiology taping, reflexology, and migraine headache relief technique!
Heinle Dental Revamps Website
Heinle Dental, located in historic Bushnell's Basin, has recently completely revamped its website!  The new highly-styled and sleek website is mobile friendly and offers current and timely news and information on all of your dental needs and concerns.  The new website reflects the high quality, state-of-the-art and professional dental care Dr. Heinle and his staff have consistently given their patients for over 27 years.  
Fairport Baptist Home Hosts Free Concert Series
 The Chapel Concert Series at Fairport Baptist Homes continues 
Standard Times (piano and sax) will be performing.  
These concerts are free to the public, every third Monday.  Fairport Baptist Home is located 4646 Nine Mile Point Rd. Fairport.   585-388-2328  Read more..
Welcome New Chamber Members!
Small Business Workshops
 5/9 & 5/16  7:00 pm to 9:00 pm, Irondequoit Community Education
 5/17  8:45 am to 3:30 pm, Rochester Chamber, 150 State St.
 5/25  8:30 am to 12:30 pm, Rochester Chamber, 150 State St.
Future Chamber Programs.  
Save the Date!
 6/9/16 5:00 pm to 7:00 pm,  Family First Credit Union
Follow the Chamber on Social Media