On Cue Content, LLC
Business of the Month
Chris Coffey's On Cue Content video production business has been chosen as the October Business of the Month by the Fairport-Perinton Chamber of Commerce.  Chris Coffey specializes in creating easy and affordable website videos.  "Adding video to your business website dramatically increases the odds that your site will appear in a web search. Your videos should always provide value, insight and give the viewer a sense of the people who make your business special." said Coffey.  
Progressive Breakfast & Networking 11/3/16  8:00 am

Join us for a progressive breakfast at Ashby Tax & Consulting on Thursday, November 3rd, 2016.  Network with staff of Ashby Tax & Consulting, their neighborhood businesses, and fellow chamber members
.  

Ashby Tax & Consulting, 

1157 Fairport Rd. 

Fairport, NY 14450.  Free.    Register here ...
Chamber Officers Elected at Annual Meeting 
At the October 12th Annual Member Meeting, Chamber Officers and Directors were elected for a 2 year term.  The Fairport Perinton Chamber of Commerce is a not-for-profit organization dedicated to helping its member businesses succeed by promoting commerce and economic vitality in the Fairport Village and the Town of Perinton, NY.  The Board of Directors consists of many talented people with diverse business backgrounds.  
Discount Headshot Photos
Tired of your existing business photo? Does it even look like you any more?  Luke Photography is offering a 50% discount for Chamber of Commerce members for in-studio business headshots for two dates in November.  Friday, November 4th from 10am - 4pm & Saturday, November 11th from 9:30am - noon  The standard $110 session fee will be reduced to $55 and will include one retouched low-resolution digital file that can be used on web sites and social media. Please contact the studio at (585) 943-5814 or by e-mail at: info@LukePhotography.com
Just Solutions, Inc. acquires AstraNetworks
David Wolf, Vice President of Just Solutions, Inc. announced that it has acquired AstraNetworks, a Panasonic phone system provider in Rochester, N.Y.  Just Solutions, Inc. is an IT service provider headquartered in Fairport, N.Y. Founded in 1997, the company received recognition in 2014 as one of Rochester's Top 100 Fastest Growing Companies. David  said "We are very excited to add the capabilities of AstraNetworks to our offerings.   Read more ...
High Acres hosts Scouts
 
On Monday, October 10th, High Acres Landfill & Recycling Center hosted Scout Day for area boy scouts and girl scouts to get a firsthand look at onsite operations. The event began with a presentation on the 3 R's - Reduce, Reuse and Recycle.  Scouts learned what materials can be kept out the landfill and given a second life by recycling.   During a bus tour of High Acres, scouts visited the composting operation, renewable energy facility, and active landfill operations.    Read more.....
Tom Fortunato trains volunteer fire fighters
Once again this winter season, Fitness Motivation will be conducting "FITMAX" at the Penfield Road Fire Station. This is for all Penfield volunteer firefighters and others associated with the fire house.   FITMAX is a high energy, full body, group workout that is both challenging and fun! Rope Jumping, pushups, burpees, running, weight lifting, games with balls, and many other activities, keep this program exciting and fresh.  
Read more...
Join us on November 6th, 11:00 am at the Perinton Community Center for shopping, demos, entertainment and raffles from over 20 vendors all in one location. The kids can play and the parents can network.   Free admission and free raffle tickets with additional raffle tickets available for purchase. Perinton Pizza free slices and Red Jacket free cidar!!.  The Perinton Community Center is located at 1350 Turk Hill Rd.    
Fairport Baptist Home Sponsors Election Day Senior Fair at Perinton Square Mall
On November 8th, Election Day voters can cast their ballot, get a flu shot, and learn about services for seniors all at the same time. The health fair is sponsored by Fairport Baptist Homes Senior Options for Independence and Perinton Square Mall Merchants and is designed to help older adults, families and friends to learn about health and wellness, senior housing options and available services.   
Read more ...
Groundbreaking The Woodlands at Stonebrook
Construction for The Woodlands at Stonebrook, a new 41 apartment community for those 55+ commenced with a groundbreaking ceremony on Thursday, September 22nd.  The apartment project will be constructed by Longwell Builders LLC as part of the current Stonebrook Townhome and Cottage Community located at 30 Stonebrook Drive in Fairport.  The Woodlands apartments will offer independent senior living, with services and programs managed by Fairport Baptist Homes. Read more ...
Discount Tickets for Rochester Philharmonic
If you have a group of 10 or more, Jenni Kohler will discount ticket prices and waive handling fees.  When you book a group of 10 or more to any RPO concert,  you will receive a discount off the ticket prices, and handling fees will be waived.   Jenni will personally coordinate all seats and arrange for how you want your tickets handled, at no additional cost.  Groups can be 10 friends, family, or whomever wants to get together.  November Concerts Contact Jenni Kohler at jkohler@rpo.org  call 585-454-7311 x297 
Turkey Jam 11/24/16
Perinton Recreation and Parks holds their annual Turkey Jam event on Thanksgiving morning from 8-10 am.  They will open up the center for the community to work out for free.  A donation of a bag of non-perishable food is requested from each participant to benefit the Perinton Food Shelf.  This community event is sponsored in part by Wegmans.    Here is a link to the facebook event
Step Up For Seniors Helps Fairport Baptist Home
On September 17th, Step Up For Seniors Raised a Record $12,000+ for FBH and area senior services.  The event emcee was Don Alhart and was attended by over 100 walkers and donors.  Kids enjoyed activities on the FBH lawn.  (photo of Tom Poelma, Spikes and Don Alhart)   Read more ...
Fairport Baptist Home Concert Series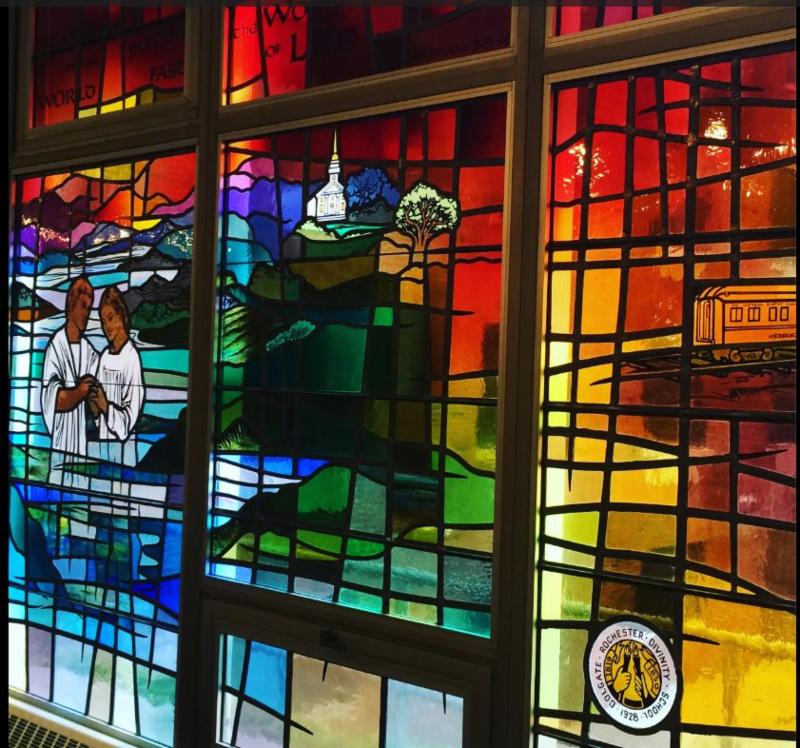 Chapel Concert Series November 21st at 7:00 pm Featuring Pianists: Helvi McClelland and Paula Bobb Join us, free & open to the community! 
Welcome New Chamber Members!  
Future Chamber Programs.  
Save the Date!
Holiday Party for Chamber Members
   12/7/16  5:00 pm to 7:00 pm,  Woodcliff Hotel & Spa
Follow the Chamber on Social Media